In the fourth TIMMIS (Transborder, Inclusive, Multidisciplinary, Multicultural, International and Sustainable) session of the 2019/20 course, students and mentors continued to progress towards the goal, this being the generation of a fundable business model at the venture preincubation phase. To do this, they continued to work with Alexander Osterwalder's business model Canvas as a way to identify their key partners and to define what their relationships with their customers will be like. Establishing aspects such as whether the relationship with each customer is to be isolated or long-term or whether customer service is to be offered, for example, is essential before starting any project.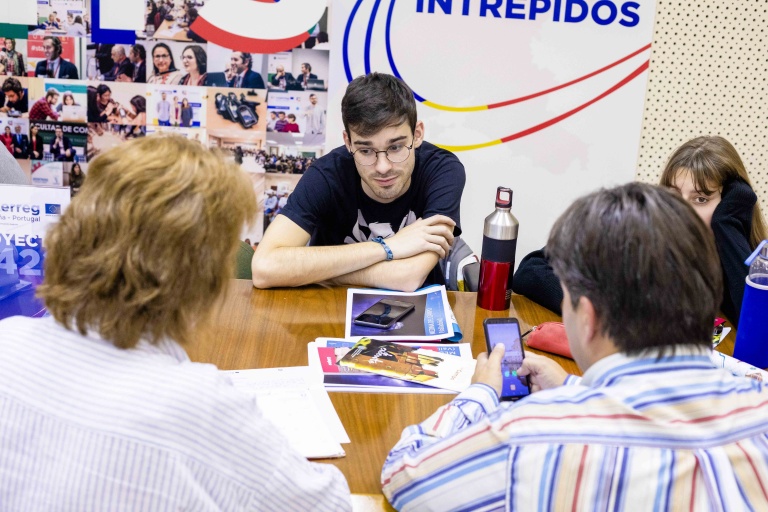 After discussing these aspects in team meetings, participants took part in a different activity to experience the value of working together. In groups of eight or nine people, they had to move a ring from a height of approximately one and a half metres to the ground using only their index fingers. Only with good organisation, synchronisation and coordination could they ensure success in a task that required teamwork.
Following this exercise, the students and mentors reflected on the ability to adapt to change and the reasons why we often experience resistance to this. Certain aspects such as fear of the unknown, comfort and uncertainty act as obstacles to performing in an uncommon setting. In this sense, they learned that resilience and the ability to stay flexible and strong in the midst of ambiguity and change is the best attitude when adapting to new or changed realities.
Consequently, bearing in mind that the basic purpose of TIMMIS teams is to function in a global market, generating a business model at an international level – as indicated by the second I in TIMMIS – that can be exported to anywhere in the world, the business models need to be ready not only to adapt to change, but also to do so in the type of VUCA environment organisations operate in now. This VUCA environment is characterised, as the initials indicate, by volatility, uncertainty, complexity and ambiguity.
To see this adaptation a business model with an international outlook needs to undergo when implemented in other countries, participants in the fourth TIMMIS session of the course took part in another activity to close the session. Divided into four groups, they had to create the figures of the flags of different countries between them all. So, each in their own way, because each group finds its own form of adapting to circumstances, they formed the circle of the flag of Japan, the star of Myanmar or the cross of Switzerland.