The sixth TIMMIS session of the 2019/20 course was different for the students of the University of Valladolid (UVa). Where at the first meeting, on 10 October, their colleagues from the Polytechnic Institute of Bragança (IPB) in Portugal travelled to Valladolid to share that day's activities with them, this time it was the UVa students who travelled to the Portuguese town to take part in a joint session with the IPB.
In this mixed session, participating students and mentors worked to create a 3D mock-up to represent their business model. This needed to show their key partners, suppliers, customers, etc. In this activity, the way each group arranges the elements reflects aspects such as the form of interpreting relationships with their partners or communication with their customers. Plasticine, straws, wool and wooden blocks were used to shape this representation of their business model.
Once the mock-up had been produced, the participants could see how it looked from different perspectives. So, they analysed it from four different viewpoints (east, south, west and north) to reflect from each of the positions on different questions: what do we most like about the mock-up, who has more power in it, how far away are the customers and suppliers, what complicates the relationships, etc.
Having completed this reflection, which served to understand the business model better, the teams had a few minutes to make any changes they considered appropriate in the light of the analysis and to ensure success of the model or, perhaps, to leave it as it was if the team felt sure it would work that way.
With the final model, the teams took it in turns to present the mock-up and the project they had been working on during these months to the other participants, using techniques such as storytelling.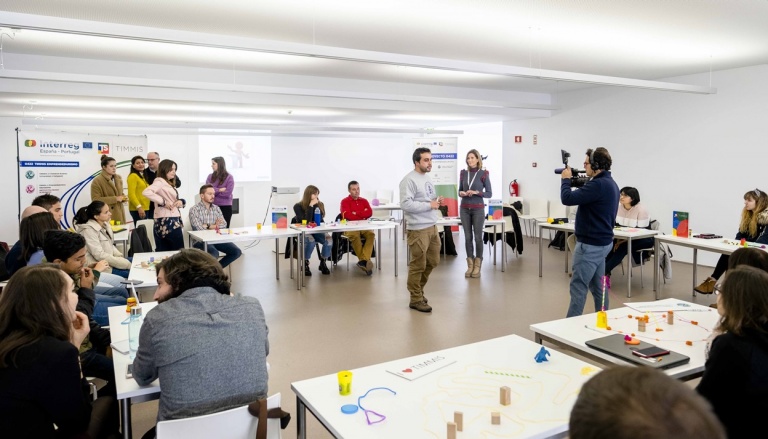 Finally, the participants in the third TIMMIS project call closed the last development session with another nod to the first session of the course. While, at that 10 October meeting, the Spanish and Portuguese participants wove a web in Valladolid while summarising their feelings in a single word, in Bragança, the last of the six sessions, the IPB and UVa students wove a similar web summarising, in one word, what they had learned in the TIMMIS development sessions and their feelings on what lies ahead. And that is that the road is long, and it has only just begun. Forward!